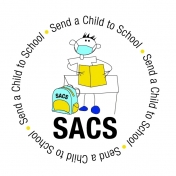 SACS | Send A Child to School
SACS is an all-volunteer organization in Buenos Aires, Argentina. Our mission is to provide students in vulnerable contexts, with the educational tools they need to reach their academic potential. In 2021, we prepared 2860 school kits and delivered them to 45 institutions, travelling to 10 provinces in Argentina.
In response to the educational crisis caused by the pandemic, SACS is broadening its scope to include "connectivity" in addition to the existing school supplies program.
To learn more about the current "BACK TO SCHOOL" Project click on "SEE MORE". .
Our 2021-2022 "BACK TO SCHOOL" PACK project's main objective is to maintain bridges of comunication between teachers and students, as well as to facilitate as much as possible their access to technology.
The "BACK TO SCHOOL" PACK will help, according to the institutions' needs, with: school internet bills, a device or printer for the institution, photocopies for students without internet access, phone minutes for a teacher who needs to communicate with the students,....whatever it takes to connect Argentine students with the education they deserve! PLUS, each child receives a school kit!
DONATE NOW!
Super PACK

school supplies + connectivity for 1 child

USD 25

Mega PACK:

school supplies + connectivity for 2 children

USD 50

Giga PACK:

school supplies + connectivity for 4 children

USD 100

Connectivity Device 1 school tablet

USD 150
See more
See less