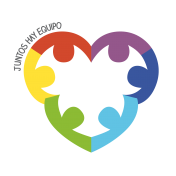 Juntos Hay Equipo (JHE)
Fundación Juntos Hay Equipo (Together, We are a team Foundation) was born to foster high social value standards within the community like spirit of solidarity, social inclusion and equity, norms of harmonious living, respect for the common good, healthy habits and environmental care.
GOALS
Furthermore, we cooperate in the dissemination of different social and environmental causes and campaigns at the national and international level by providing subsidiary collaboration to nonprofit organizations, third sector entities and specialized agencies or agencies that work in the field with some of the causes also dealt with by the Foundation.
Juntos Hay Equipo is a solidarity initiative created by María Carolina Bilotta, specialist in Social Responsibility, who decided, in 2013, to take concrete concepts to action of Solidarity, Love for the other and, what she considered to be her true gift of transmitting passion for what she did, Motivation of other people to share and multiply their gifts to become change agents and transform their reality.
The premise and conviction of the power of transformation of the little good loving actions were the result of her experiences as a volunteer in different NGO's and her trip to Calcutta, Republic of India, where she took on Humanitarian Aid with the congregation of Missionaries of Charity of Mother Teresa of Calcutta.
Motivated by the ideas of her great inspiration, Juan Carr, creator of Red Solidaria and nominee to the Nobel Peace Prize, she wanted to acquire and replicate the "Culture of the Other One" concept, which means there is someboby else apart from ourselves that needs us. After almost five years and a lot of effort and dedication, this solidarity initiative became Fundación Juntos Hay Equipo.
VISION
Since 2013 we've been working in the dissemination and promotion of high social value and moral standards and, thus, we believe in the importance of collaborating and achieving sustainable development in all communities so that our generation and future generations can have a healthier, happier and more peaceful life. To achieve this target, we will continue to use our Solidarity Agenda, following the dates of every national and international and social and environmental cause and event. In the next five years we will strive to continue coordinating our projects with some of the 17 goals of the UN 2030 Agenda for Sustainable Development.
We know that the world can become a better place to live in and for that reason we believe that all 17 goals of the 2030 Agenda and our high social value and moral standards call for the commitment of every one of our community and the international community. Working as a team is the way to achieve those objectives.
From the start, Juntos Hay Equipo has collaborated with the following 2030[1] Goals:
End hunger, achieve food security and improved nutrition and promote sustainable agriculture; we joined "Hambre Cero (No Hunger)" and "Lucha Contra el Hambre (Fight against Hunger)" National Campaigns alongside several small communitary comedores and merenderos (feeding centres) and together with Fundación Margarita Barrientos -Margarita Barrientos Foundation– (www.margaritabarrientos.com.ar) and Fundación Conin – Conin Foundation (www.conin.org.ar).
Ensure healthy lives and promote well-being for all at all ages; we carry out community awareness-raising programs together with Argentina Red Cross (cruzroja.org.ar), Argentine Federation of Cardiology (www.fac.org.ar) Hospital Garrahan (www.garrahan.gov.ar).
Ensure inclusive and quality education for all and promote lifelong learning; we foster the right to education together with "Enseñar por Argentina" – Teaching for Argentina- (www.ensenaporargentina.org); Argentina Special Olympics (www.olimpiadasespeciales.org.ar); Techo (www.techo.org).
Achieve gender equality and empower all women and girls; we are members of #NiUnaMenos National Campaign and we've dealt with issues related to White Trafficking with Madres Victimas de Trata.
Promote peaceful and inclusive societies for all; we foster world peace and inclusion in the broader sense of the term together with Deportistas por la Paz – Sportspersons for Peace- (deportistasporlapaz.org); Mensajeros de la Paz –Peace Messengers - (www.mensajerosdelapaz.org.ar); Botines Solidarios (www.botines-solidario-org.ar) CACUCA(www.cacuca.org.ar)
Furthermore, we've been working alongside Fundación Vida Silvestre Argentina -Argentina Wild Life Foundation- (www.vidasilvestre.org.ar) with recycling and animal shelter campaigns to raise awareness to the care of the environment; Red Solidaria with "Frio Cero" National Campaing (redsolidaria.org.ar), Debra (www.debraargentina.org) with unusual diseases, Incucai ( www.incucai.gov.ar ), among others.
We keep on looking for causes that are in need to be disseminated and promoted. Also, our goal is to start spreading and promoting, jointly with the UN and international organizations, more programs and campaigns for the community; because we believe in a better world,working together as a team.
Address:
Pringles 261, General Villegas
Provincia de Buenos Aires
See more
See less