BACK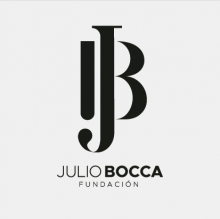 Program Details
DONATION GOLD 18 K
From sculpture to dance; giving unites us.
On the occasion of the Julio Bocca Foundation's 20th anniversary, the argentine sculptress Paloma Mejia was invited to create two small jewel-sculptures to honor Dance and Musical Theater. The sculptures were presented to teachers and personalities who marked the Foundation's history. Today, due to the pandemic, Paloma will gift to those who make donations to the Julio Bocca Foundation (for USD 2,000 -two thousand United States dollars- or higher) one of her
jewel-sculptures in 18kt gold
that are the exclusive insignia of the Foundation and can be used as pendants or as pins. Each piece is made individually by the artist. They are solid, signed and numbered by the artist and carry a certificate of authenticity.
Doners will have the possibility to choose between the Dance charm and the Musical Theater charm. Taking into account that they are made individually by the artist and by request, the pieces can be collected at Julio Bocca Foundation Headquarters (CABA, Argentina) starting 30 days after the social, preventive and compulsory isolation period is over, and in the order each donation was made. Each donor will be notified when their jewel is available for collection. For specific information about shippings (not included) please contact fundacion@fundacionjuliobocca.org.ar and we will help you find a company to collect the item at our Headquarters at your own cost and risk.