BACK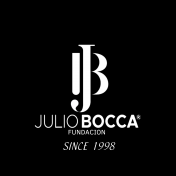 Program Details
SUPPORT TO JULIO BOCCA FOUNDATION
Since 1998, the Musical Theater & Dance School of the Julio Bocca Foundation, every year, travels throughout Argentina and part of the LATIN AMERICAN region in search of students with remarkable technical abilities that show us that they can be permeable to our improvement programs, leveling and elite training that could make him a relevant figure in the disciplines they choose, both MUSICAL THEATER and DANCES in all areas.
Every corner of Latin America hides treasures, human beings with an incredible artistic capital who cannot overcome the obstacles that limit them to reach a conditioned classroom, with a correct academic accompaniment, container and above all surrounded by the language that their body, mind and passion they need to understand that their ability is a gift that sets them apart.
A scholarship is a key, a door that opens, it is the possibility, it is the motivation, it is the why? And what for? So much effort from a dance or musical theater student.
The student of these disciplines usually start at the beginning of their practices as something playful and little by little, accompanied by their local teachers, they manage to grow their passion in each repetition of the pirouette, or with each letter or song practiced for hours so that it comes out "as it should be"…until those teachers can no longer align themselves with the evolution of their students and need to let them go to other cities in search of more challenges, greater demands, new techniques, other risks…but how? If the LATIN AMERICAN economic condition is the real limit to the evolution of a passion so committed to art and opposed to the social ideology of the concept of DECENT WORK because they are disciplines without creditable social recognition.
A scholarship, in most cases, is the difference between becoming an artist or just dreaming of what could not be.
A training program designed for each type of student, a content controlled by experts, a space with the physical conditions, are the container agent of a potential student who reaches his roof in his hometown and suffocates in the circular routine of the known.
The artist is thirsty for success behind the scenes, but the student is hungry and eager to accept all the challenges that life throws at him to prove that he can be an artist, and the scholarship is the best way.
We need to give meaning to the word SCHOLARSHIP, synonymous with OPPORTUNITY
We need to continue this work threatened by inflation and poor arts education policies throughout the region.
We are an institution that represents academic excellence in all aspects and we have all the tools to help more people, we just need the resources to apply those tools in each particular case.
We do not ask for a simple help, we ask for a commitment to support those who need our know-how.