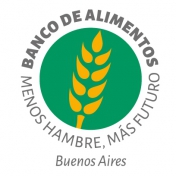 Fundación Banco de Alimentos
Fundación Banco de Alimentos provides an effective solution to hunger, by receiving and managing food donations, that are gathered in our warehouse, sorted and delivered to feed thousands of Argentines in need.
We are a non-profit organization that seeks to reduce hunger, improve nutrition and avoid food waste.
Our mission is to "Help those who suffer hungry" and we do it by receiving donations of food and products from companies, agricultural producers and supermarkets, which we then distribute among social organizations that feed people in need on the spot.
In this way we collaborate with the feeding of more than 167,636 people per day, reaching them through 1,192 social organizations located in the City of Buenos Aires and 40 parties in the Buenos Aires Metropolitan Area.
LESS HUNGER, MORE FUTURE
we seek to be a bridge between those who suffer from hunger and those who wish to collaborate through a transparent and efficient channel that guarantees that their donation will reach thousands of people who are not assured of their food.
Food Bank Model
Fundacion Banco de Alimentos currently distributes approximately 5,035,912 kilos of food every year and has the capacity to sort, store and distribute these foods efficiently. Food is stored in our 2300m2 warehouse equiped with five reefers. We also have a computerized stock management system that helps us track food expiration dates, volumes and deliveries. The quality of our work and policies has allowed us to certify our quality management system under ISO 9001: 2000.


Food Rescue Program

This is the main program of Fundacion Banco de Alimentos. Through this program we receive and manage food donation and deliver them to those in need. Since its creation in 2001, its growth has been exponential.


www.bancodealimentos.org.ar
@bdalimentos

Address: Luis Maria Drago 5530,San Martin Buenos Aires
+55 11 4724 2334 / 0203 / 0016
See more
See less