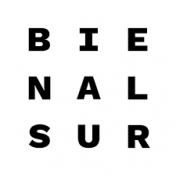 BIENAL SUR
BIENALSUR is a project from Argentina to the world. Created and developed with the support of non-profit foundations, it is an extensive platform that operates as a collaborative network.
It aims to offer different views on the present from the perspective of contemporary art. It neither pursues profit nor is politically committed to any particular sector.
Established in 2015, it is currently preparing its third edition, which will take place in the second half of 2021. Just as in its two previous editions (2017 and 2019), it will be present simultaneously in more than forty cities in approximately twenty countries, thus connecting the five continents.
Participants range from emerging artists to the most internationally acclaimed ones. The venues include major world-class museums as well as local and regional cultural centres, community spaces and public spaces, providing a space for horizontal exchange among different spaces on a global scale.
For each edition, the participating artists and the topics to be addressed are selected through an international open call to artists and curators. For the 2021 edition, more than 5500 proposals were submitted from over a hundred countries.
Unlike conventional biennials, BIENALSUR does not take place every two years, but engages in biannual processes. For this reason, in addition to the open call, the complex processes of selection, exchange and dialogue with venues and colleagues from the different countries we work with, a series of meetings are regularly held under the concept of a Global South - towards BIENALSUR 2021 in the current period. These meetings take place in different cities either in person or online with the participation of artists, curators and intellectuals from all over the world.
For the 2021 edition of BIENALSUR, we are working on the following thematic areas: environmental awareness; modes of inhabiting; transits, borders and diversity; and digital worlds, all of which resulted from the international call and are related to contemporary issues with a view to contributing to a reflection upon the present from this associative platform that operates as a network.
See more
See less