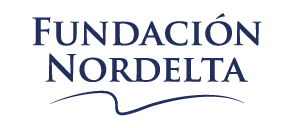 Fundación Nordelta
We are a non-profit organization founded in 2001, aimed at improving quality of life aspects of families living in vulnerable communities in the surroundings of Nordelta city. We develop and offer social programs destined to early childhood, childhood, adolescence and youth segments, under two concepts: Human Development and Community & Environment.
MISSION: To create opportunities for the integral development of vulnerable communities within the Nuevo Delta area by promoting active participation from relevant institutions and neighbors as forces of change.


PROGRAMS:

Educative Accompaniment Program

Objective: To develop a comprehensive accompaniment (education + health) from pregnancy to 18 years old. Each age period will be articulated with other activities such as Healthy Habits, Creativity, Nutrition, Sports and Arts.

Description: School classes; pregnant and postnatal groups; stimulation and play space for mothers and their children; high school scholarships; Radio workshop; Women group; Arts and Sports. Literacy and Reading programs.

Target Population: Children and young people from 0 to 18 years old, and women upto 25 years old.

Where takes place: Las Tunas, Tigre, Buenos Aires province.


Comprehensive Program for Employment Integration

Objective: For young adults to acquire the knowledge of their own needs and the necessary skills to fit the market's needs. Also, to promote and accompany the local community during a formal labor process and help them discover their possibilities in line with their abilities, competences and what the labor market is searching for.

Description: Theoretical and practical classes where we work previous knowledge and we do exercises using the acquired skills. (Customer Service, Computing skills and Gastronomy). The last unit is focused on training and consulting assistants regarding the elaboration of a Resume; abilities needed for a job interview; and individual and group exercises to prepare them for a possible interview.

Target Population: Young people from 18 to 25 years old.

Where takes place: Las Tunas, Tigre, Buenos Aires province.


Address: Av. de los Lagos 7010 - Tigre.
Phone: 11-4871-4232 / 4205 / 5734.
See more
See less